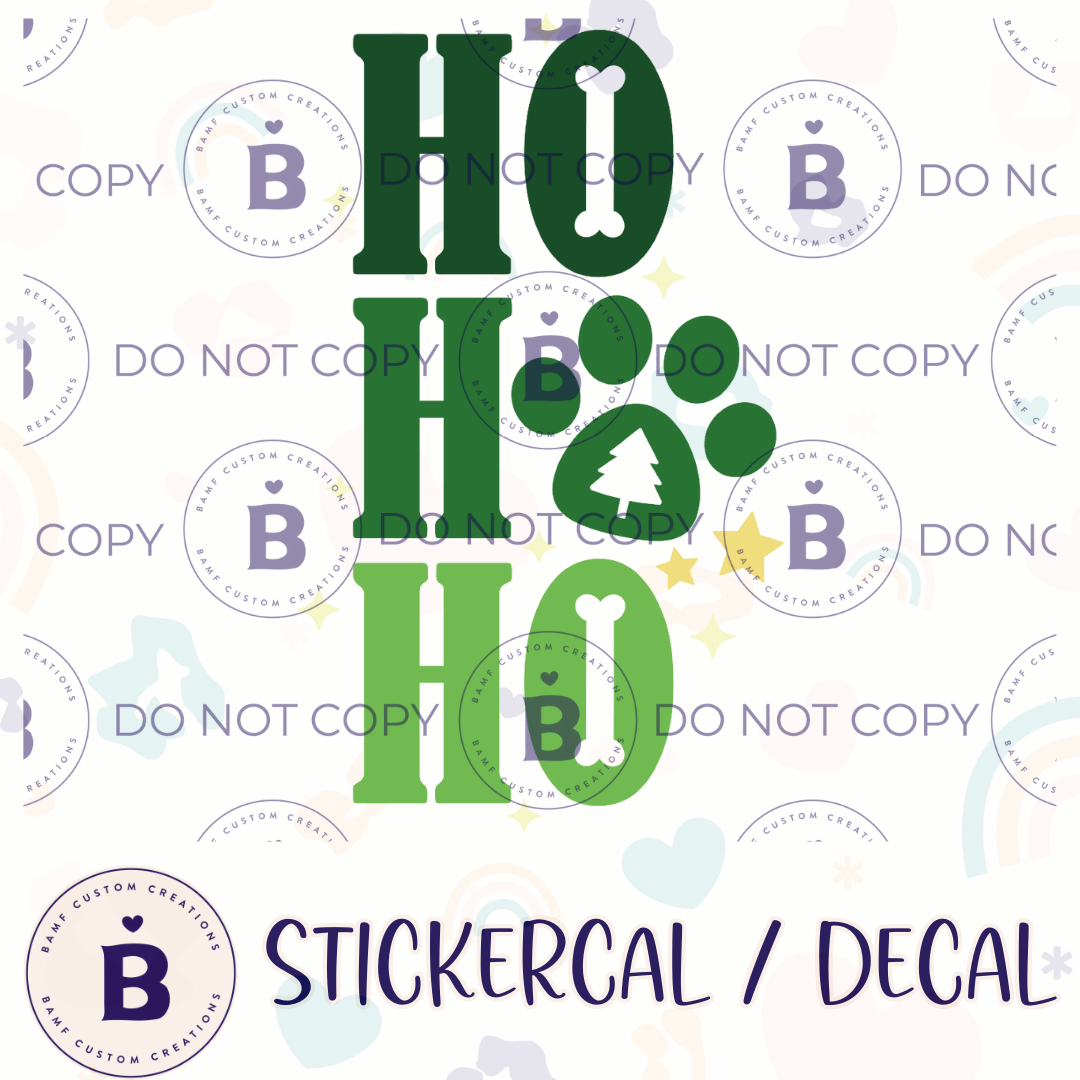 0926 | Ho Ho Ho (Pet Version) | Stickercal
In stock, ready to ship

Inventory on the way
Product photos shown are digital mockups of the design. Cut lines and printed colors may vary slightly from your screen to the actual print itself. Every effort has been made to accurately represent what you will be receiving.

BAMF Stickercals, also called Tumbler Decals, Tumbler Decals, are pre-designed stickers/decals that are clear with an opaque white layer of ink below the design. These stickercals are easy to use as well as allow you to add beautiful designs to your tumbler or epoxy/Crystalac creations without having to deal with waterslides, printable vinyl, etc.
The latest versions of BAMF Stickercals are thinner and does not have the layer of clear vinyl over top. The design is still made with a durable UV ink that can withstand chemicals and liquids for short periods of times. These decals can withstand a small amount of solvent contact, but it is not recommended to soak or submerge these stickercals in any type of liquid or solvent. They are created with high quality materials and can be used with both EPOXY and CRYSTALAC products. You do not need transfer paper to apply, but that is up to you and your preference.
These BAMF Stickercals are created with REMOVABLE TRANSPARENT adhesive vinyl. These are not made with a "permanent" adhesive. It is recommended that these decals are sealed. While through some experimentation, these decals have held up pretty well on a vehicle - it is not recommended to place the decals in a place where you cannot seal it as the life span of the decal may not last long.
BAMF Stickercals are not clear cast decals. Clear cast decals are completely clear and printed with a different type of machine with an ink that, at times, is not as durable. Clear cast decals are transparent and do not provide the opacity that BAMF Stickercals provide. While Clear cast decals are wonderful, they are not as universal as BAMF Stickercals since they do not have that base white ink layer to allow full color opacity of the design.
BAMF Stickercals can be applied to any color cup/base. The reason for the white layer of ink under the design is to allow you to apply the stickercal to any color base, white to black. Keep in mind, putting a black decal overtop of a black base will not work. The white ink layer preserves opacity. The clear white outline may show on non-glitter or dark colored bases, not always, but there is a chance. It will be faint and not extremely noticeable.
BAMF Stickercals require minimal to no prep to use. Before applying the stickercals to your surface, you need to ensure it is a clean, smooth and un-sanded surface. If you sand prior to applying, there is a chance you will see the sanding marks even if you apply epoxy of the stickercal. Otherwise, you do not need to seal it, print it, use water to apply, have long wait times before epoxy, etc. You can apply Crystalac or epoxy immediately after application.
Applying BAMF Stickercals to your tumbler/surface is easy! Again, make sure that you have a clean smooth surface before applying the stickercal, otherwise it is as easy as applying a sticker. Stickercals can be difficult to maneuver, so ensure that where you want to stick it is where it is going because pulling it up and reapplying it can be difficult. I recommend watching Jessica Flynn's YouTube review here, as she shows you how to apply the stickercals to ensure they are even and placed accurately. You can apply stickercals with or without transfer paper, but it truly is not needed. Using your finger or a squeegee, make sure all of the air bubbles are out and the decal is completely stuck to the tumbler, rubbing from the center of the decal out. Ensure there are no fold or crinkles as this may show after epoxy. 
The clear outline of the decal may show depending on the style and color of the cup being placed on but is typically blended in with the cup after a layer of epoxy is applied on top. At times, after epoxy, the clear outline may still faintly be visible, and again, this will depend on the design/color of the cup. Typically, on lighter color and glitter tumblers the outline is rarely noticeable but may show faintly on dark solids color tumblers. 
DESIGN LICENSING: BAMF Custom Creations, LLC is keeping up to date on all copyright and trademark laws to ensure that no design is infringing on anyone's property or trademarks. Designs have been purchased through appropriate channels and additional licensing has been purchased in order to meet any and all requirements to sell these products to you. Because our printed products are not "final products" many designers require a "Commerical" and/or "Transfer" license so that their digital designs can be sold as a material for you to be able to use on personal & commercial products.  I do my best to ensure that all items sold are managed, monitored, and ensured that any thresholds are met. As a purchaser of these designers, you have the ability to sell finished products with these designs on them. You are NOT allowed to resell the designs/vinyl sheets/stickercals/etc. without written permission. Regardless of all of this, BAMF Custom Creations, LLC is not responsible for the customer's knowledge of copyright and trademark laws. It is the customer's responsibility to ensure that any and all legal aspects of the products you are purchasing and selling are being followed.